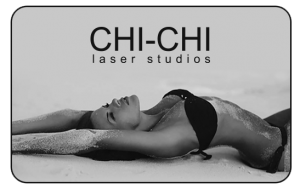 OFFER EXPIRES DECEMBER 24. DON'T MISS OUT!
Friends don't buy friends fruit cake

NOW OFFERING LASH EXTENSIONS AND NIR SKIN TIGHTENING

I was apprehensive to try Chi-Chi's "PAINLESS" system after experiencing traditional IPL systems in the past – their claim seemed too good to be true. Dorota, my lovely technician, put me at ease the moment I arrived at the studio, but I still braced myself at the start of the session, expecting a thousand tiny elastic bands to snap away at my sensitive lady parts, and… nothing! No pain! Finally, a company that stands by its claims! It actually felt like a warm stone massage, and the procedure took a fraction of the time than regular lasers. Chi-Chi gets two (hairless) thumbs up from me!
MARILINA RENNA